How can i insert the ShinyStat™code in sites created with Joomla (from version 1.7.x to 2.x.x)?
FOR JOOMLA 3.X VERSION (3.0 or higher), PLEASE DOWNLOAD THE UPDATED PLUGIN BY CLICKING HERE.
In order to install the ShinyStat™ code for sites created with Joomla, the Joomla software must be previously installed (In this guide the version 1.7 of Joomla is taken into account) as well as the module "ShinyStat™ for Joomla".


Configuration Steps:

1. Download here the ShinyStat™ for Joomla module;

2. Access the administration pannel of your Joomla website;

3. Select the menu "Extensions" and "Extensions Manager";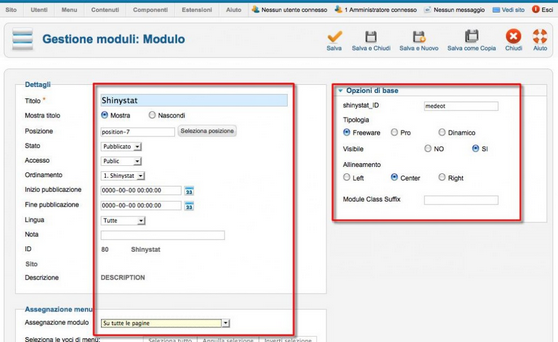 10. Click on "Save and Close" to make the changes effective. The module will appear as active.

Nota Bene: We inform that the settings for the ShinyStat™ counter in terms of color, shape and visible information are the ones defined through the ShinyStat™ panel and not through the configuration of the Jooml module.