7-8 Novembre 2013 Milano (MiCo Milano Congressi) – SMX Search and Social Media Marketing Expo – Tra i relatori, Paolo Zanzottera di ShinyStat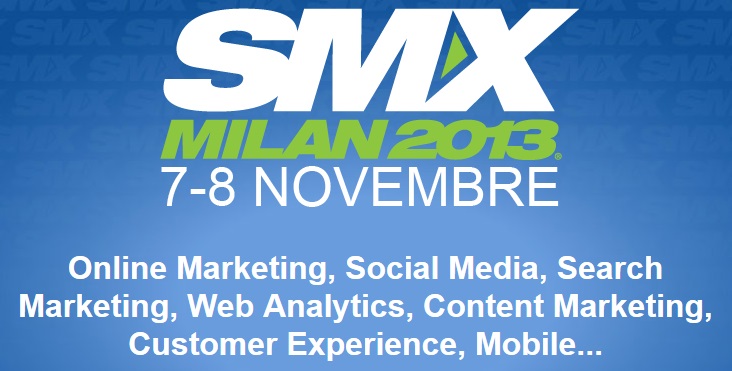 Dopo i successi di New York, Toronto, Sidney, Parigi, Londra, Monaco, Stoccolma e Gerusalemme, giovedì 7 e venerdì 8 novembre 2013 SMX, Social Media and Marketing Expo, debutterà per la prima volta assoluta in Italia a Milano presso il Mico -– Milano Congressi (via Gattamelata 5), grazie alla collaborazione tra Business International Fiera Milano Media e la Third Door Media.
Tra i relatori selezionati per intervenire a questo evento importantissimo anche Paolo Zanzottera di ShinyStat.
* Attenzione! L'offerta riservata agli utenti ShinyStat è valida solo per un numero limitato di ticket; l'offerta sarà disponibile fino ad esaurimento dei posti disponibili.
Nato nel 2006, SMX si è da subito contraddistinto per l''alto profilo degli speaker, per i prestigiosi case study presentati e, in particolare, per la novità e la qualità degli argomenti posti al centro delle sessioni di lavoro e curati da alcuni dei più grandi esperti del settore.
I contenuti, legati sempre ai temi chiave del Digital e Social Marketing, sono ideati e proposti da Third Door Media, la casa editrice americana dei portali d''informazione Search Engine Land e Marketing Land, in collaborazione con Business International.
Il Programma completo dell''evento, i relatori presenti  e le informazioni per partecipare (iscrizioni e quote di partecipazione) sono consultabili sul sito www.smxmilan.it
Approfittatene.
Category: News 65 comments »